High Quality Air Melt and Remelt
Vertical integration means that we can procure our carbon, alloy, stainless, nickel, and aluminum raw material all within the ELLWOOD family!
Our melt shop in New Castle, PA, was founded in 1985 and is the premier producer of clean steel ingots. We combine a state-of-the-art 45-ton electric arc furnace, split secondary ASEA-SKF ladle refiner, and vacuum degassing to produce the highest quality bottom-poured ingots.
Secondary melting using electroslag and vacuum arc remelting is also available to meet the most demanding and critical applications, such as is required for aerospace and power generation.
Irvine, PA, is the location of our second melt shop, founded in 2005, which houses a vacuum oxygen decarburization unit that utilizes the latest technology. This melt shop increases our capacity to provide steel ingots, and extends our capabilities to melt high-quality stainless steels and nickel-based alloys.
Custom chemistries are our specialty! Contact us today at ecfsales@elwd.com to learn more about our tight chemistry control and clean steel.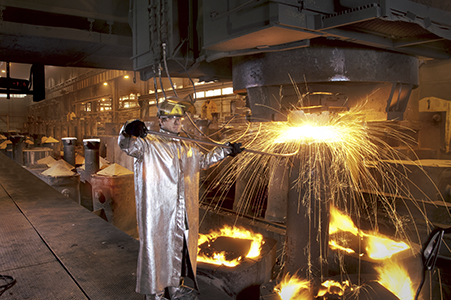 Diverse Product Offerings
---
Our 100 years of forging experience coupled with the latest production techniques ensure that you get the quality product that you require. Our superior due date performance ensures that you get it when you need it.