Company Overview
Operating from 2 forging manufacturing facilities, ELLWOOD City Forge Group is known worldwide as a leader in the open-die forging industry. We manufacture concentric and eccentric contoured forgings and single cross-section products from carbon, alloy, stainless, tool steels, aluminum and nickel alloys in weights up to 70,000 pounds, lengths to 57 feet, and diameters to 135 inches.
We specialize in a variety of custom forgings including shafts, blocks, eccentrics, hollow sleeves, rings, spindles, couplings, and discs, as well as smooth forged billet and rough turned bar.
Our metallurgical expertise allows us to possess an overall understanding of the microstructure of heavy metallic sections over a large range of chemistries, sizes and geometries. As a result, we serve major customers in the oil & gas, mining, power transmission, machinery, machine shop, power generation, shipbuilding, pulp & paper, automotive, infrastructure, and aerospace industries.
Over our many years of business, ECFG has spent millions of dollars for new equipment and to rebuild existing equipment, as well as to expand our manufacturing spaces. We have increased our capacity and enhanced our capabilities to keep pace with our largest and most technically demanding customers.
We offer high-quality forgings, extensive manufacturing capabilities, and outstanding customer service.
ELLWOOD City Forge Group is truly a world class open-die forging supplier!
Contact one of our experienced sales employees at 724-752-0055 or toll free at 800-843-0166 for additional information about how we can provide a reliable solution for your products.
We provide fast responses to your inquiries. Please send your inquiries and orders to our sales mailbox. This mailbox is monitored throughout the day so regardless of whether your sales contact is in a meeting, on the road, or on vacation, you can be confident that your request will be received and processed in a timely manner.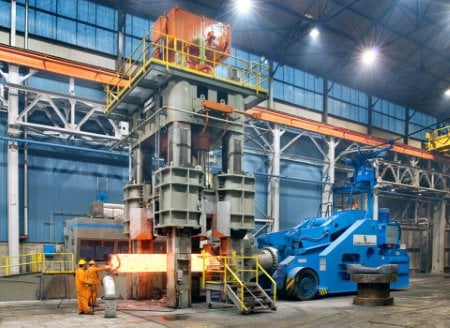 Our History
---
On May 10, 1910, the Ellwood Citizen newspaper announced the closure of Frankford Steel Company (Tindel-Morris Company), a hammer forging shop located in Ellwood City. Brothers David and Jonathan Evans were employees of the company as managers in the machine shop and forge shop.
In June 1910, with $25,000 capital and a vision to the future, the brothers founded Ellwood City Forge in the former Frankford Steel plant. From modest beginnings, ELLWOOD City Forge Group now employs over 400 people and serves customers in many industries around the world.
While technology and equipment have changed dramatically over the past 100 years, one thing has remained the same—the dedication and commitment of the employees of ELLWOOD City Forge Group to see their company succeed.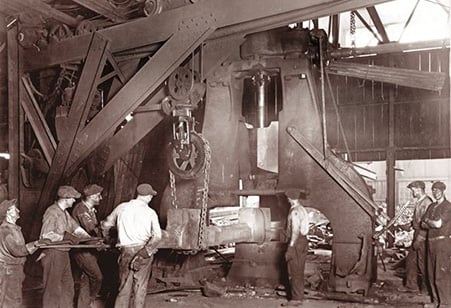 OUR TEAM
For over 100 years, our employees have been committed to the growth and success of our organization.
To our customers, ELLWOOD City Forge Group emphasizes the core values of metallurgical expertise, job-shop flexibility, reliable due date performance and dependable service.
To our employees, ECFG emphasizes the traditional values of hard work and innovation. Notwithstanding the decline of the once-flourishing metal-manufacturing community in the western Pennsylvania area, ECFG has remained a stable and loyal employer for more than four generations. We respect our people and reward their effort with above-average base pay and fringe benefits, along with a generous 401K Retirement Plan.
Perhaps this explains why generations of family members choose to work at ECFG. It also may explain why, unlike other metals businesses in our region, no union has ever been elected by our employees to engage in collective bargaining.
Good communications and common values shared by ECFG management, its employees and customers distinguish our company from the competition and, at the same time, ensure ECFG's continuing success.
Meet Our Sales Team
---
At ELLWOOD City Forge Group, we pride ourselves on our professional and knowledgeable Sales Team. Whether it's responding to a question or providing a quick price and lead time, we strive to provide the highest level of customer service.
Did you know that our sales employees have almost 400 years of combined experience!!
To maintain our customer service reliability, we have a sales mailbox communication system to ensure that your inquiries and orders are handled appropriately. This mailbox is monitored throughout the day so regardless of whether your sales contact is in a meeting, on the road, or on vacation, you can be confident that your request will be received and processed in a timely manner.
Please address all inquiries and orders to ecfsales@elwd.com.
Outside Sales & Marketing
---
ECFG Sr. Dir. of Business Development
Texas, Oklahoma, Arkansas, Louisiana, New Mexico, Mississippi,
Illinois, Minnesota, Wisconsin, Iowa, Kentucky, Ohio, Indiana, Kansas, Michigan, Missouri, Colorado, North Dakota, South Dakota, Nebraska
---
Canada (Ontario and West), California, Oregon, Washington, Idaho, Montana, Wyoming, Utah, Arizona, Nevada
---
Connecticut, Maine, Massachusetts, New Hampshire, Vermont, Rhode Island, New York, Pennsylvania, New Jersey, Delaware, Maryland, Virginia, D.C., North Carolina, South Carolina, Tennessee, Georgia, Alabama, Canada (QC, NB, NS, NL, PE)
Diverse Product Offerings
---
Our 100 years of forging experience coupled with the latest production techniques ensure that you get the quality product that you require. Our superior due date performance ensures that you get it when you need it.